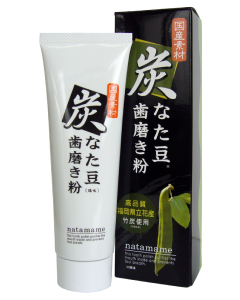 Natamame Sumi Toothpaste
🌱🌵 Toothpaste that prevents bad breath.
🌱🌵 Sword bean extract and charcoal plus persimmon tannin freshen your breath! Who care about your appearance and cleanliness.
🌱🌵 Truly whitening teeth.
🌱🌵 Prevent the formation of cavities that cause tooth decay.
🌱🌵 Purify the whole entrance, remove dental plaque.
🌱🌵 Prevent deposition of calculus and remove a cavity.
🌱🌵 Everyday brushing leads to removal of stains and sparkling white teeth of origin.
🌱🌵 Take the nicotine of the tooth
🌱🌵 To support blood circulation, clarification of your blood and fluid. Immune function. It controls the balance of bacteria.
🌱🌵 Without dental abrasives included, so you don't have to worry about damaging teeth and gums.
🌱🌵 To prevent from pasty mouth. Immune function, Not to be toothache nor tooth-bleeding.
🌱🌵 This does not contain abrasive compounds, colorings, foaming agents or parabens.
🌱🌵 To advise for adult and children using.
🌱🌵 Usage: Take a little toothpaste onto the toothbrush (do not immerse water), after that rinse mouth with clean water.
Made in Japan.
Mô tả sản phẩm
Nataname oral care lineup's introduction
Natamame is called Jack Bean. It is a plant of the bean family.
Natamame is used in Asia herbal medicine for treating the discharge of pus.
Natamame contains Saponin – It has the ability to foam for toothpaste and to be as same as antibiotics . It helps to prevent bad breath, oral bacteria, and oral diseases.
Nataname toothpaste only contains organic ingredients.
It controls the balance of bacteria and Immune function.
We guarantee this toothpaste is high quality &effective one.
What is NATAMAME's benefits?
Teeth whitening.
Alpha hydroxy acid helps to remove dental stain, plaque, stickiness from the teeth and cigarette tar.
Good one keep your mouth clean and prevent gum disease, bad breath.
Preventing from dental caries.
Pasty mouth.
No abrasive compounds, colorings, foaming agents or parabens.
If you have problem in oral diseases, we would recommend NATAMAME toothpaste.
Only made in Japan.
Main Ingredients' Effect of Natamame Sumi Toothpaste
Toothpaste that prevents bad breath with the power of Sword bean and charcoal.
With the special effect of bamboo charcoal in the protection of oral health only in the Natamame product line.
Activated charcoal is not only toxic but it is also a leading method of teeth whitening, cleaning of plaque on teeth is extremely effective but very safe and gentle.
Activated charcoal powder has the effect of eliminating bacteria (including odor bacteria), help prevent bad breath.